I often hear business owners use branding, marketing, or sales interchangeably. I had an opportunity to speak with a group of early-growth, technology entrepreneurs recently who found it helpful to simplify the differences and clear up the confusion. With a clearer understanding of the terminology, business owners can better examine and tune processes to drive growth.
In fact, there's an even broader word soup for many owners, so let's demystify marketing vs. advertising vs. public relations (PR) vs. branding vs. sales vs. communications. For some, this is accompanied by the questions, "Do I care? Do I need all this?"
The marketing-sales funnel graphic below is an overview.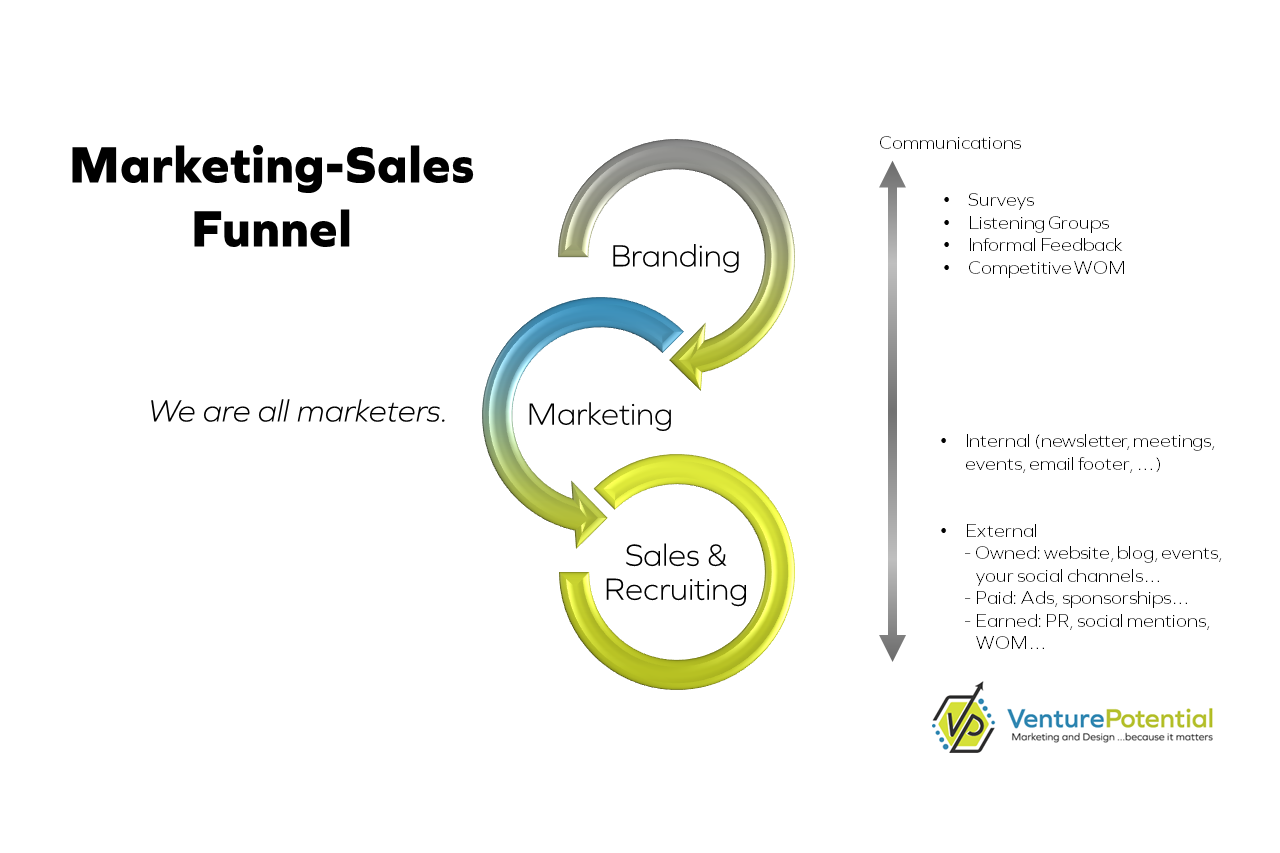 Branding is the WHO. Who are you? Branding is the strategy that identifies your product or service distinctly – separate from the competition. We trademark this identity. Branding is a long-term activity. It's more than your logo, colors, or tagline. It's your culture, tone, and promise.
Marketing is all the activities that stimulate demand for your product or service in the market. Marketing generates, nurtures, or retains leads. Advertising and PR are types of marketing activities.
Sales is all the activities that convert leads into customers who pay you money for your goods or service.
Communications are important throughout the entire funnel and should be two-way – listening and sharing. To develop good branding, marketing, and sales, marketers start with listening for an understanding of the consumer (who use your product or service), the customer (who buy your product), the competition, and the market climate (4C's). Marketers turn this understanding into strategic thinking in the shape of honed messaging, designs, and marketing plans that are engaging, effective, efficient, and enduring. We call this strategic marketing.
Another important aspect of two-way communication is internal and external. Your employees are often your best brand ambassadors/recruiters as well as a good source of customer and competitive information. Newsletters, meetings, events, and even a standard email footer help your employees to be on-brand and up-to-date. Externally, marketers manage day-to-day communications that are owned (ex., website, blog, social media, events, etc.), paid (ex., advertising, sponsorships, etc.), and earned (PR, social mentions, word-of-mouth, etc.).
In summary, I share these Key Marketing Roadmap Strategies:
Effective, Strategic Marketing – to break through the clutter. Be heard.
Engaging, Insightful Designs – to connect and resonate with target customers. Be meaningful.
Enduring Relationships – to convert interest into brand loyalty and brand advocacy. Be share-worthy.
Efficient ROI – understand your analytics to optimize your plan. Be right-sized.